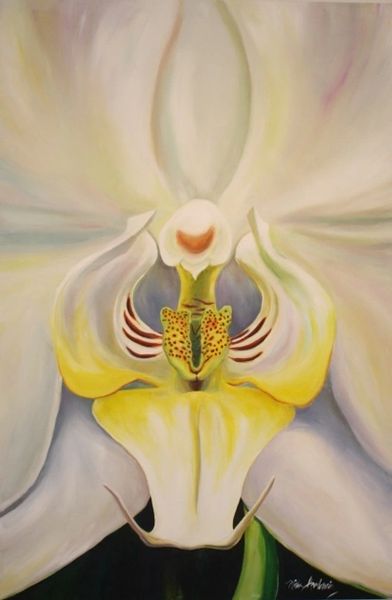 "Studio Orchid"
"Studio Orchid"
©
Misha Ambrosia
Acrylic on Canvas
48"L x72"Hx 2 ½"W
Artwork completed: March 15, 2014
I love having orchids on my watercolor art desk in my studio, and when my white orchid plant bloomed, I get a itch to paint her!
My solo art exhibition was May 1st, and I had completed one orchid painting, so I had to hustle to complete this one. I have been studying the masters for a long time, and when I am in a crunch...your go-to guys are the masters! So…which artist painted great orchids???? Why, Georgia O'Keeffe did! I have many books in my library about her and I am very inspired by her works. She created large-format paintings of enlarged blossoms, presenting them close up as if seen through a magnifying lens. I thought to myself "Hey, that's what I was going to paint"…so with brush in hand and a 4 foot by 6 foot by 2 ½" width canvas in front of me, I painted the way she would have-very opaquely with lots of white.
The canvas is a large one built by my friend Angie Alexieff, who is an astounding artist herself.

Shipping will be $600.00. If you would like to pick this canvas up at my studio...we can talk...I am very flexible!