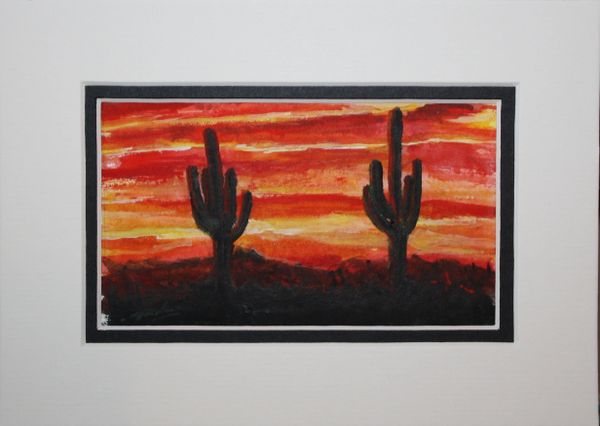 "Saguaro Sunset #2"
ARTIST ORIGINAL SIGNED SMALL WATERCOLOR SOUTHWEST CACTUS SUNSET ARTWORK "Saguaro Sunset #2" ©Misha Ambrosia

• Watercolor on Canson 300pd Smooth Paper
• Artwork size: 4 5/8" L x 2 5/8" H
• Matted size: 7" L x 5"H
• Date of completion: December 30, 2014

• I love painting with bold colors, and southwest art or really the southwest itself is a color spectrum of life and spirit…how fun it is to create from a palette of color.
• My new kick in life is studying Native American icons whether it is jewelry, art or the traditional tribal dances filled with costumes and stories. I also love the color of the southwest...what a palette present by nature!
• When I need to shut down, and just paint…I listen to a good audio book, look at my library of southwestern themes and images for reference materials in dive into this world of creativity…these art works are the results…
THANKS FOR LOOKING AND HAVE A GREAT DAY!!!!