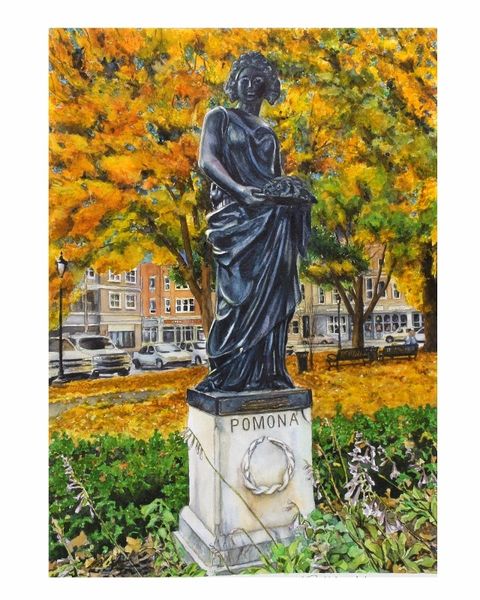 "Pomona"
"Pomona"
©
Misha Ambrosia
Watercolor on Arches 300pd Rough Paper
Artwork size: 14 ¾" L x 20 ½"H
Frame size:  27 ½"L x 33 ½" H
Artwork completed: March 23, 2006    
One of the original art pieces of my first solo exhibition  in Bowling Green  "36 Views of Fountain Square Park", Pomona is a grand watercolor showing the west side of Fountain Square Park during the fall. 
Pomona is one of the 4 goddesses who surround the fountain…she is the goddess of fruit trees, garden, and orchards. Unlike many other Roman goddesses and gods, she does not have a Greek counterpart. She watches over and protects fruit trees and cares for their cultivation. She was not actually associated with the harvest of fruits itself, but with the flourishing of the fruit trees. In artistic depictions she is generally shown with a cornucopia or a platter of fruit as she is shown here. Her other sisters who surround the fountain are Ceres, Flora and Melpomene-who is actually the muse of singing.