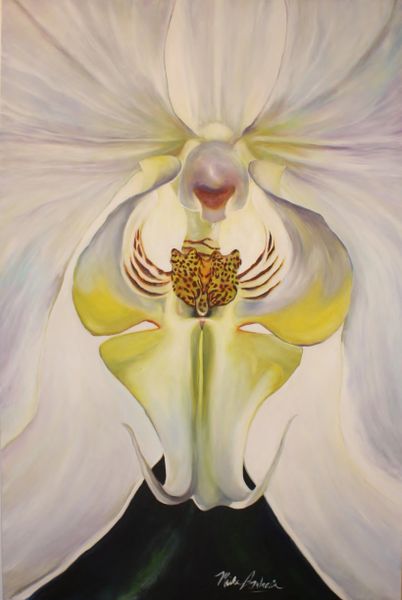 "Orchid"
"Orchid"
©
Misha Ambrosia
Acrylic on Canvas 48"L x72"H x 2 ½"W
Artwork completed: April 26, 2014
I love having orchids on my watercolor desk in my studio. And every season when she blooms I get orchid-fevered-itch to paint her!!!
This artwork was carefully created with delicate layers of paint.
An orchid petal is so strong and sturdy as well as being very translucent. In order for me to achieve this balance, I would paint this piece every day or two, just to build the layers, and avoided the opaque look.
The canvas is a pretty big-one built by my friend Angie Alexieff, who is an astounding artist herself. The canvas measurements are 4 foot by 6 foot with a 2 ½" width. It's a wonderful large-scale beauty!
Shipping will be $600.00. If you would like to pick this canvas up at my studio...we can talk...I am very flexible!
Please check out the other orchid painting on this website named "Studio Orchid!" While this orchid is painting is translucent, her sister is painted opaque-very similar to a Georgia O'Keefe style!