"Fountain Square a la Klimt" SOLD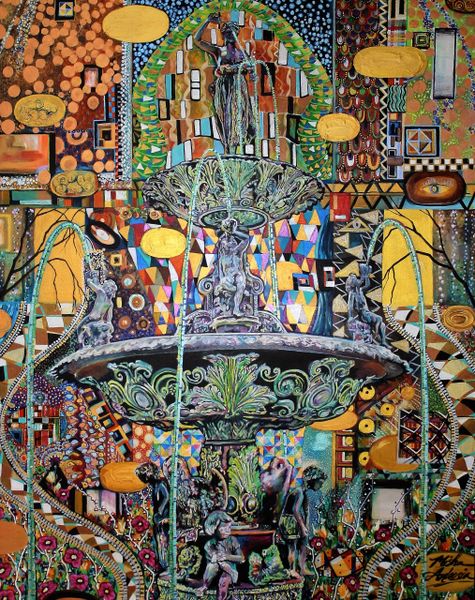 "Fountain Square a la Klimt" SOLD
"Fountain Square a la Klimt"
©
Misha Ambrosia
Acrylic on Canvas
Artwork size: 48"x60"
Date of Completion: April 1, 2014
My showpiece….months and months of work went into this artwork!  Fountain Square Parks' fountain, one of my favorite subjects combined with geometric ideas of Gustav Klimt, one of my favorite artist, blend on canvas.
This was a challenge from the beginning considering I haphazardly centered the fountain wrong when I drew it, had to erase and redraw the fountain.  A 12" square took about 1-2 days to paint, but honestly, if I had the chance again…I would love to be able to sit and paint and paint and paint for hours with my beautiful golden retriever at my side without a care in the world except what's on my paintbrush and where's my glass of chardonnay? I believe if you ask an artist where is their favorite place to visit, the blank canvas, the empty sheet of paper; the unmolded clay would be the answer!