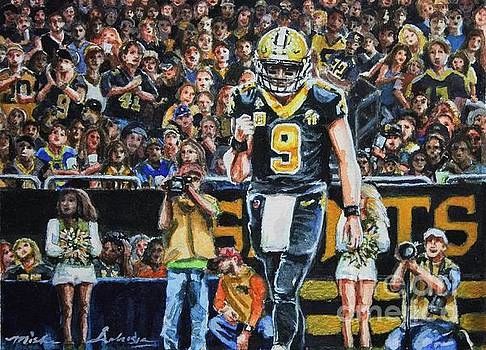 Drew Brees In The Dome
"Drew Brees in the Dome" by Misha Ambrosia
©Misha Ambrosia-Ambrosia Art
Artwork completed on October 12, 2019
Watercolor on Arches 300pd cold press paper with black and gold mat
Image size: 7.25" x 5.25", outer matt size 10" x 8"

Saints 2018-2019 Season
Los Angeles Rams vs New Orleans Saints
November 4, 2018, Superdome, New Orleans, Louisiana

I started on the New Orleans Saints painting series after the November Rams game mentioned above. The Saints handed the Rams their first loss of the season with a 45-35 victory.

It came over me that since I love the Saints and I love to create art and I love to watch football on Sundays while working on art in my studio (when the Saints are not playing in the noon or 3pm slot) …I'll just combine these three loves and create artwork of my beloved Saints!

I love this painting…I love Drew Brees! I mean I'm not in-love of course, but this man objectifies what humans can achieve when they work hard for their dreams to come true! He is 6foot-nothing, he is the first to get to practice and the last to leave, he is a team leader, a captain, pro bowls abound, he has amazing accuracy and he is 40 years young! He has never missed a game in college and only one game as a NFL player until the thumb injury (just think how many quarterbacks last that long in the NFL?)

After years of the Saints being laughed at by the NFL and those bagged "fans", years of "maybe next year", years of waiting to get to a playoff game and losing. Me, crying in my seat in the dome after those 90's playoff loses…then we get this Saint who can throw a football better than an archer can hit the bullseye-all ten tries! All I have to say is" Enjoy watching this man wearing a Saints uniform, his talent, his sportsmanship…never forget how fortunate we are to watch this man break records-a master of his talent and skill! Also, a terrific family man who gives to the city of New Orleans as much of himself as he can…and still be humbled to name better people than himself!

I have always wanted to paint this this image of Drew in the middle of the Super Dome football field with all the lights and all the faces watching him, admiring him, cheering him!

Now place yourself in his shoes right at this moment-oh, it's the 2-minute warning, 4th quarter, Saints are winning, beating the (until now) undefeated Rams and you/Drew have just completed a first down pass and all those eyes on ya…goosebumps and a nervous stomach for me!

As we know, on January 20, 2019, the Saints lost the NFC title game against the Rams with the infamous "missed call" by the referees…just 1 minute and 49 seconds away from the Super Bowl!

I was depressed and saddened like many of my fellow New Orleanians. Painting this series has helped me cope with the heartbreaking lost which still stings me to this day! and painting Drew Brees is always a treat!!!

"Laissez les bon temps rouler"…iiiiaaaayyyeeeeee!!!!!
"Geaux Saints!!!" Who Dat!!!…iiiaaaayyyeeeee!!!!