Benjamin Watson #82 And Josh Hill #89 High5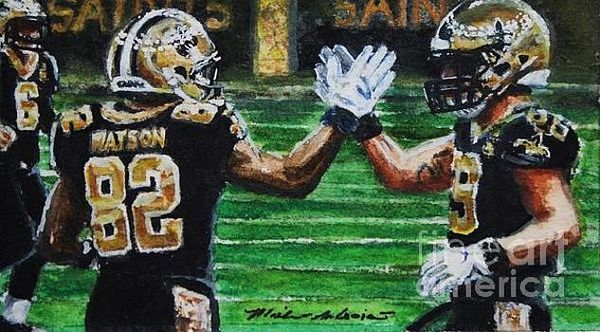 Benjamin Watson #82 And Josh Hill #89 High5
"Benjamin Watson #82 and Josh Hill #89 High5" by Misha Ambrosia
©Misha Ambrosia-Ambrosia Art
Artwork completed on December 18, 2018
Watercolor on Arches 300pd cold press paper with black and gold mat
Image size: 4.5" x 2-5/8", outer matt size 5" x 7"

Saints 2018-2019 Season
Los Angeles Rams vs New Orleans Saints
November 4, 2018, Superdome, New Orleans, Louisiana

I started on the New Orleans Saints painting series after the November Rams game mentioned above. The Saints handed the Rams their first loss of the season with a 45-35 victory.

It came over me that since I love the Saints and I love to create art and I love to watch football on Sundays while working on art in my studio (when the Saints are not playing in the noon or 3pm slot) …I'll just combine these three loves and create artwork of my beloved Saints!

While painting "Benjamin Watson #82 and Josh Hill #89 High5" which was completed on December 18, 2018… I was very enthusiastic about our Saints…I could FEEL the Saints were having another magical season which may lead us to the Superbowl again!

33 days later, January 20, 2019, the Saints lost the NFC title game against the Rams with the infamous "missed call" by the referees…just 1 minute and 49 seconds away from the Super Bowl!

I was depressed and saddened like many of my fellow New Orleanians. Painting this series has helped me cope with the heartbreaking lost which still stings me to this day!

Note: Thomas Morstead #6-Saints punter jogging off the field

"Laissez les bon temps rouler"…iiiiaaaayyyeeeeee!!!!!
"Geaux Saints!!!" Who Dat!!!…iiiaaaayyyeeeee!!!!