"A Courthouse Hilltopper"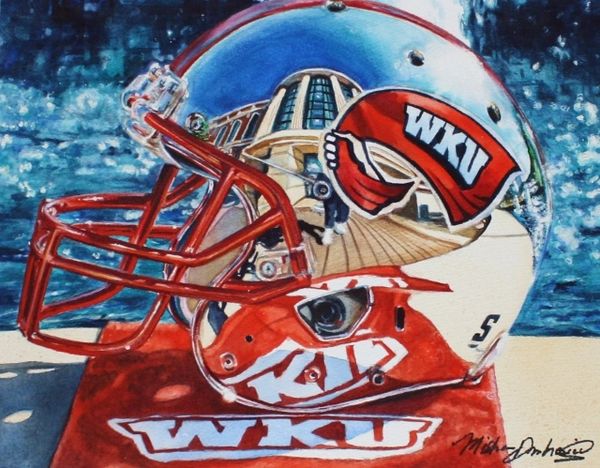 "A Courthouse Hilltopper"
"A Courthouse Hilltopper" ©
Misha Ambrosia
Watercolor on Arches 300pd Cold Press Paper measuring 12 ¾"L x10 ¼"H
Framed in silver aluminum frame with white mat measuring 20 ½"L x16" H
Date of completion: March 9, 2014
I love painting Bowling Green, Kentucky landscapes, I love painting chrome and I love to have new art ideas to explore soooo…last year our local university Western Kentucky (WKU…Go Hilltoppers!) changed their football uniforms and added chrome helmets to their repertoire. I borrowed a helmet and went around town shooting pictures of local landmarks reflected on the helmet. Watercolor is the best of the best medium for reflections, so I just rolled with it.
The reflection in this helmet is the Warren County Courthouse located in downtown Bowling Green, KY. The helmet sits on a WKU towel and in the background is an outdoor fountain.