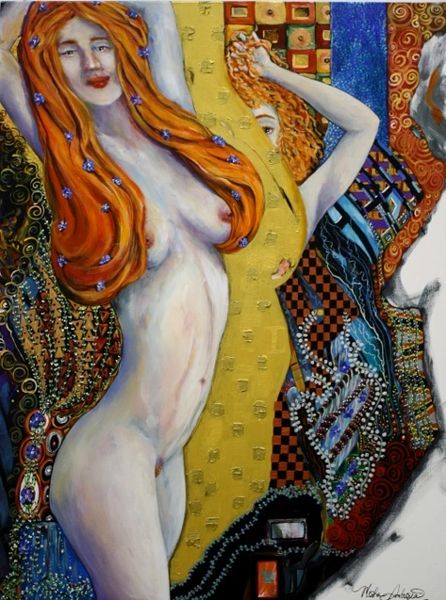 "3 Lives-1 Life"
"3 Lives-1 Life"  

©

Misha Ambrosia
Acrylic on Canvas  
30"L x 40"H x 2 1/2"W
"3 Lives-1 Life" is a piece of artwork I kept painting or retouching over and over again until July 15, 2013 (I sign and date all my artwork on the back), when I knew this work was complete!
Painted with acrylic medium, this "Gustav Klimt" style artwork takes the viewer on a journey into the 3 stages of womanhood. 
Best described by Linda E. Savage, Ph.D. in her article "THE THREE STAGES OF A WOMAN'S LIFE" there is the maiden, the mother and the crone ·       
"The Maiden within us is the playful child, delighting in the wonder of pleasure and sexual exploration. ·       

The Mother is the loving nurturer, bestowing unconditional acceptance on the beloved, and generating compassionate loving beyond self-gratification ·       

The Crone is the wise woman within, who can consciously generate healing power."
I love this piece, there is a lot going on...sometimes I feel I may read too much into this canvas, the girl playing with her hair, the sexuality of the women, the floral and geometric designs and the unfinished elder lady to the right (am I representing myself there???)-I myself am almost there in age, but not quite there yet…
I hope whoever purchases this piece cherishes it as much as I do!